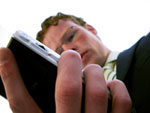 Something I suffered from in the past was lack of an effective time management strategy for my work day. A good time management strategy will help you to accomplish what you want to accomplish in a day faster, and it will help you get more individual tasks completed daily. Here's a list of some techniques to help you better utilize the time you have:
* Create a list of tasks to complete each day
Plan ahead and compile a list of things you want to get done every day. Throughout your day go through and consult your list, and check off tasks as you complete them.
* Put follow-up items on your list for the next day or two
If you have a task that you just can't squeeze in today, go ahead and start an advance list and put it on tomorrow or the day after's agenda.
* Bring forward unfinished work from the previous day
Items on your agenda that you haven't completed can be added to the next day's agenda and finish them then.
*Keep track of due dates
Use your list to keep track of when tasks need to be completed.
* Keep a list of monthly priorities
A list of things you need to do between one month and the next will be helpful in compiling your list of daily activities.
* Keep track of long-term commitments
Something so far in the future that it couldn't be placed on your daily, tomorrow, or monthly list needs to be kept track of somehow as well.
* Keep your work area clean and organized
Lack of organization will lead to a lot of time wasted when you're searching for something you need.
* Keep all your current work in a single area
Multitasking is a necessity, it happens. Make yours go smoother by keeping all your resources for your current projects in a single location.
* Get rid of old documents that you no longer need
Try to keep the amount of files you have on-hand to a bare minimum. Throw out the stuff from a few months ago that you will never need to reference again.
Not all of these strategies will work for everyone, but I think that if you give it some effort they can all have a positive impact on your work efficiency.
sources: Tom Mochal, Tech Republic